Metronome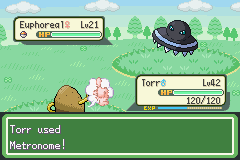 Battles
Type

 Normal

Category

 Status

PP
 30 (max. 48)
Power
 --
Accuracy
 --%
Priority
 {{{priority}}}

Does not make contact
Not affected by Protect
Not affected by Magic Coat or Magic Bounce
Not affected by Snatch
Not affected by Mirror Move
Not affected by King's Rock
Target
Foe
Foe
Self
Ally
Affects the user
Availability
Not a TM, HM or Move Tutor move.
Metronome (Japanese: ゆびをふる Wag Finger) is a non-damaging Normal-type move.
Metronome randomly selects a move and fully executes the attack. An attack called by Metronome in this way counts as the last move used.
Because Metronome has normal move priority, a move with higher or lower priority may be executed other than when it normally would. For instance, Metronome may cause Quick Attack to be used after a normal priority move or Vital Throw to be used before a normal priority move.
Description
Edit
Description
Waggles a finger and stimulates the brain into using any move at random.
By leveling up
Edit
#
Pokémon
Type
Egg Group
Level
#336

Randomix




Water 1

Water 3

9

Bold indicates a Pokémon gains STAB from this move.
Italics indicates a Pokémon whose evolution or alternate form receives STAB from this move.
By tutoring
Edit